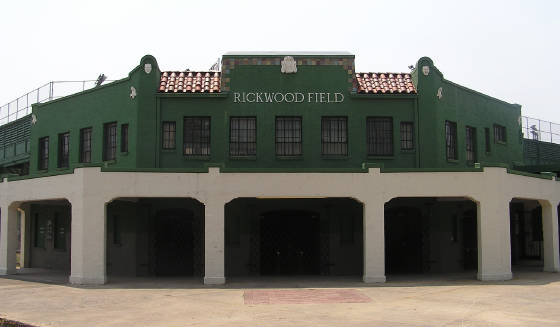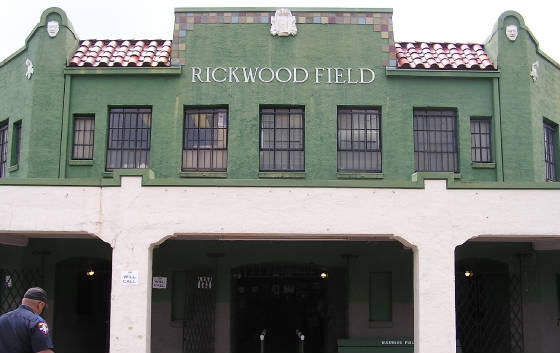 TEAM ::: BIRMINGHAM BARONS
LOCATION ::: BIRMINGHAM, ALABAMA
MY FIRST VISIT ::: JULY 4, 2006
MY FIRST GAME ::: MAY 27, 2009
OPPONENT ::: MISSISSIPPI BRAVES
LEVEL ::: SOUTHERN LEAGUE 'AA'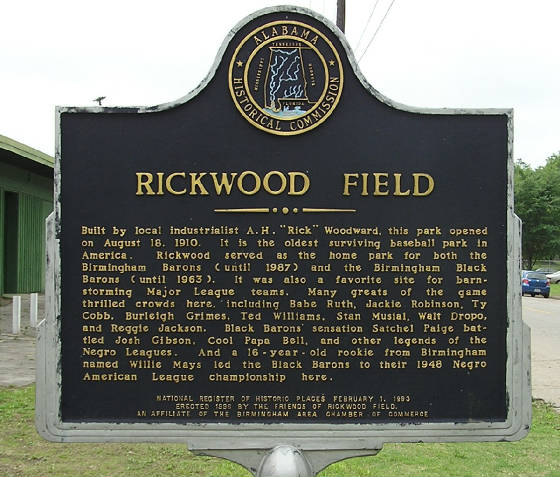 RATINGS

BALLFIELD ::: A+
SCOREBOARD ::: A+
FOOD ::: A
FACILITIES ::: C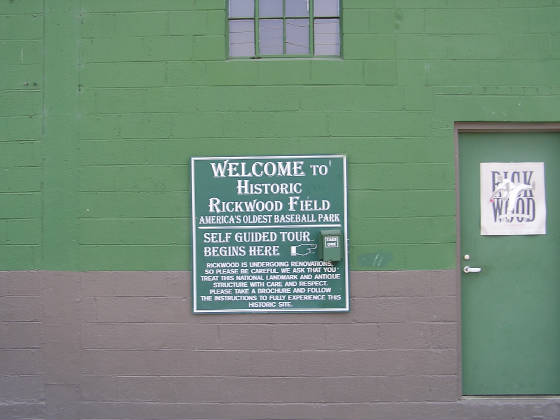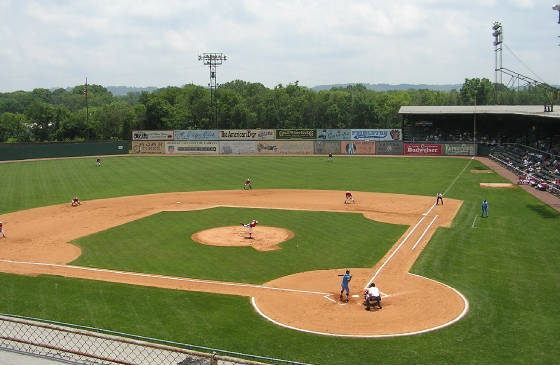 MY TAKE ON THE PARK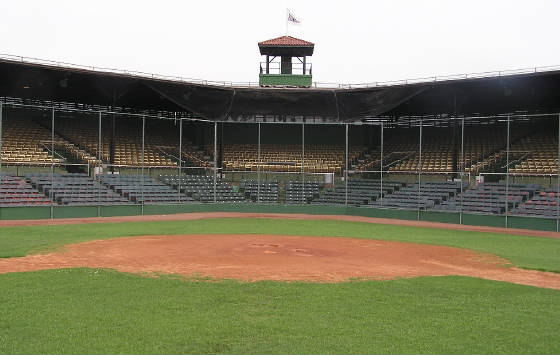 I NEVER LIKE TO GO TO PARKS UNLESS THERE IS A GAME GOING ON, IN THE CASE OF RICKWOOD FIELD, I ONLY HAVE ONE OPPORTUNITY A YEAR TO SEE A GAME. I DON'T KNOW IF I AM HAPPY OR JUST LUCKY THAT I MADE AN EXCEPTION WITH RICKWOOD FIELD.

SOMETHING I DID NOT KNOW ABOUT THE CITY OF BIRMINGHAM PRIOR TO MY VISIT WAS THE EXTENSIVE BASEBALL HISTORY THIS CITY HAS. I WOULD HAVE TO COMPARE THE HISTORY TO THAT OF NEW YORK, BOSTON, OR CHICAGO. DIFFERENCE
IN BIRMINGHAM IS THE HISTORY IS OF HISTORIC PLAYERS BEFORE THEY WERE MAJOR LEAGUERS. RICKWOOD FIELD HAS SEEN THEM ALL, FROM AARON TO MAYS, COBB TO RUTH, ALL OF THESE GREATS HAVE PLAYED A GAME IN RICKWOOD FIELD.

AS AN ASIDE, 'GOOGLE' RICKWOOD FIELD AND BOB SEGER, LYNARD SKYNARD, OR KISS AND YOU MAY FIND A CLASSIC STORY ON LINE WITH A DIFFERENT PERSPECTIVE.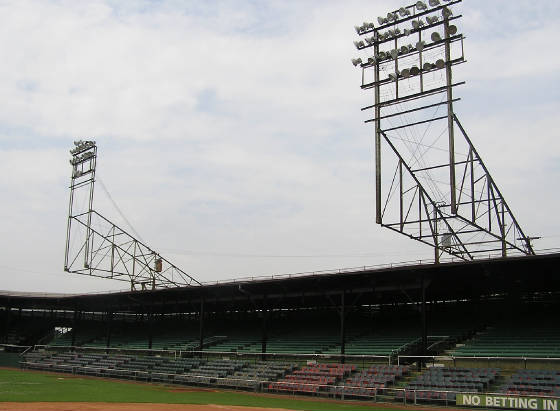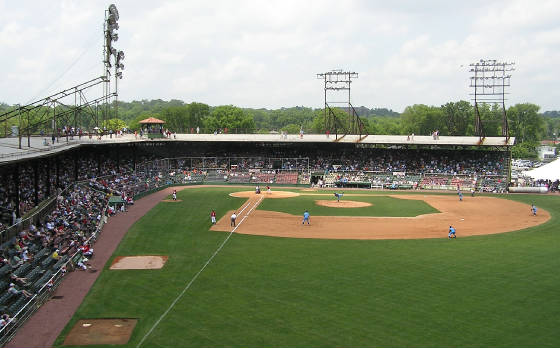 RICKWOOD FIELD CURRENTLY IS ONLY USED FOR THE "RICKWOOD CLASSIC", AN OFFICIAL SOUTHERN LEAGUE GAME WHERE THE BARONS ANNOUNCE A SPECIFIC THEME
FOR THE GAME EARLY IN THE YEAR. ALSO, VARIOUS ORGANIZED LEAGUES USE THIS PARK THROUGHOUT THE YEAR. OTHERWISE, RICKWOOD FIELD IS OPEN FOR TOURISTS TO VISIT.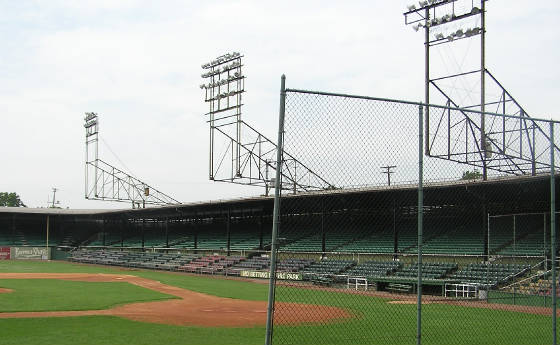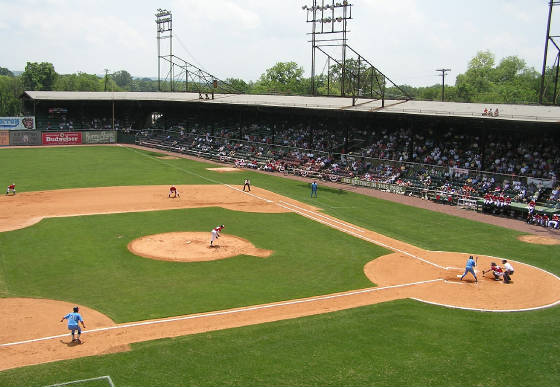 UPON ARRIVING AT RICKWOOD FIELD, YOU ARE ABLE TO TAKE A SELF GUIDED TOUR OF THE PARK. IF YOU THINK THIS PLACE IS ONLY ABOUT WHO HAS PLAYED HERE, YOU ARE MISTAKEN. THERE IS SO MUCH MORE HERE, FROM THE LIGHT TOWERS TO
THE COVERED GRANDSTAND, THE MANUALLY OPERATED SCOREBOARD IN LEFT TO THE MISSING SEATS IN RIGHT FIELD. AFTER READING THE SELF GUIDED TOUR BOOK YOU SEE NOT ONLY WHY THE SEATS WERE SEPARATED FROM THE REST OF THE
GRANDSTAND BUT ALSO WHY THEY WERE UNCOVERED. IN A WAY, IT IS JUST SURPRISING TO SEE JUST HOW FAR THIS COUNTRY HAS COME, OR SHOULD I SAY HOW FAR BACK WE WERE JUST 50 YEARS AGO.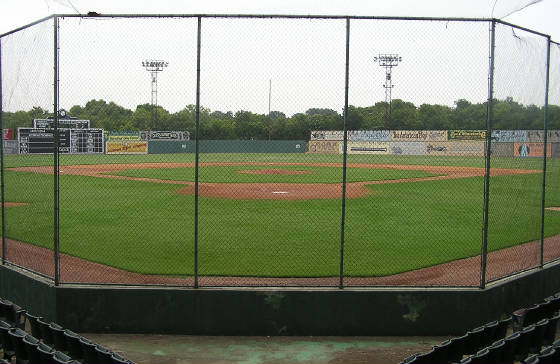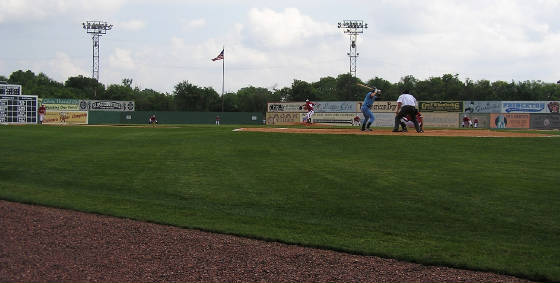 MY FAVORITE PART OF THIS TOUR WAS STANDING ON THE PITCHERS MOUND. A MOUND ROLLIE FINGERS PITCHED FROM IN THE LATE 60s, BEFORE THE DAYS OF THE HANDLE BAR MUSTACHE. TO ME, I CAN'T CONVEY HOW EXCITED I AM THAT
THIS PARK IS STILL USED BY THE BARONS AND WITH THE EXTENSIVE RENOVATIONS BEING DONE TO PRESERVE THE PLACE, IT SHOULD BE AROUND FOR MANY YEARS TO COME.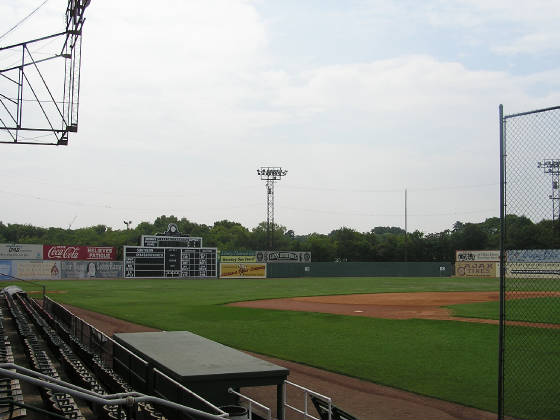 A TRIP TO RICKWOOD FIELD IS AN ABSOLUTE MUST FOR EVEN THE MOST CASUAL BASEBALL FAN. MY ONLY SUGGESTION IS TO LEAVE YOURSELF TIME TO ENJOY THIS GEM, I FOUND IT VERY EASY TO JUST GET LOST STANDING IN FRONT OF THE DUGOUT HERE. THIS FEELING OF GETTING LOST IN YOUR THOUGHTS HAPPENS ON
MORE THAN ONE OCCASION WHICH I FEEL MAY BE THE GREATEST ASPECT OF THIS PARK.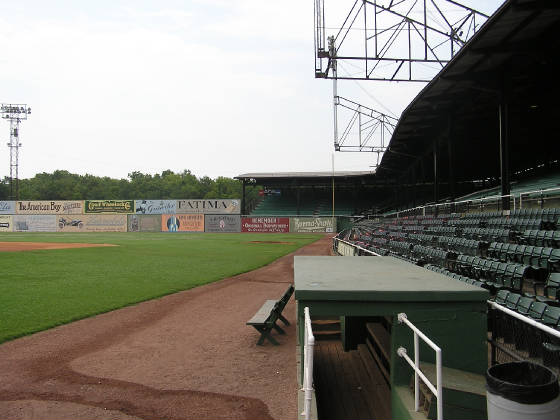 **** UPDATE 2009 ****
I finally attended a game at Rickwood Field in 2009 and I have to say it was one of the best baseball experiences I've ever had. pure baseball in Birmingham, I can't explain just how great the feeling was to be here. In 2010 it will be the 100th birthday for this grand ole place, I am already making reservations.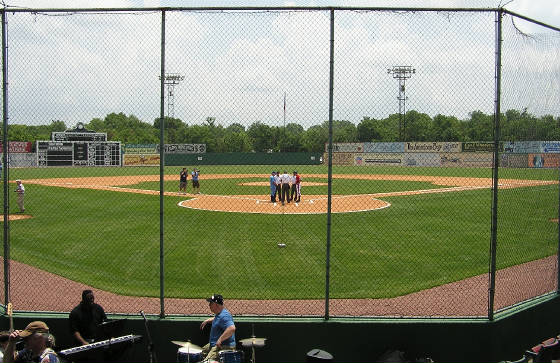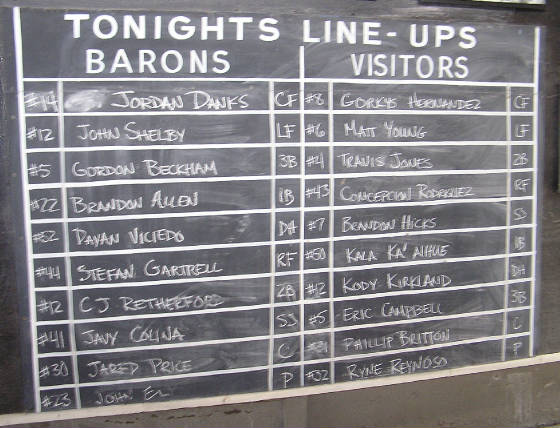 THE LINE UPS
Mississippi Braves manager :::
20 Phillip Wellman
Birmingham Barons manager :::
8 Ever Magallanes
MISSISSIPPI BRAVES
8 Gorkys Hernandez cf
6 Matt Young lf
4 Travis Jones 2b
43 Concepcion Rodriguez rf
7 Brandon Harris ss
50 Kala Ka'aihue 1b
12 Kody Kirkland dh
5 Eric Campbell 3b
31 Phillip Britton c
32 Ryne Reynoso p
19 Brett Butts WP
29 Rafael Cruz S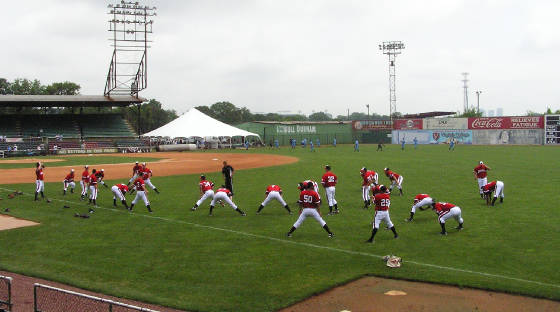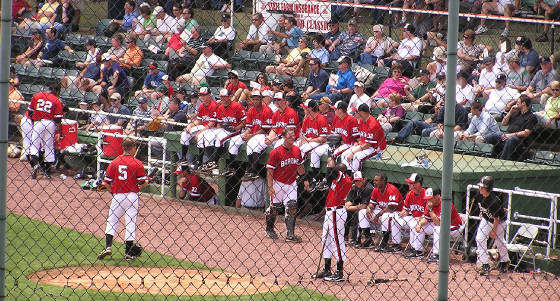 BIRMINGHAM BARONS
14 Jordan Danks cf
12 John Shelby lf
5 Gordon Beckham 3b
22 Brandon Allen 1b
52 Dayan Viciedo dh
44 Stefan Gartrell rf
12 C.J. Retherford 2b
41 Javy Colina ss
30 Jared Price c
23 John Ely p
29 Fernando Hernandez LP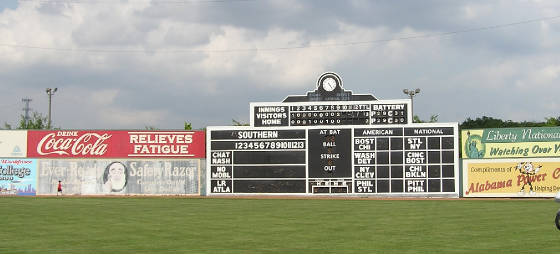 MISSISSIPPI 100 000 002 3 9 3
BIRMINGHAM 000 100 100 2 5 0
TIME ::: 2:59
ATTENDANCE ::: 7,396
WEATHER ::: 82 SUNNY, HUMID
SEND ME AN E-MAIL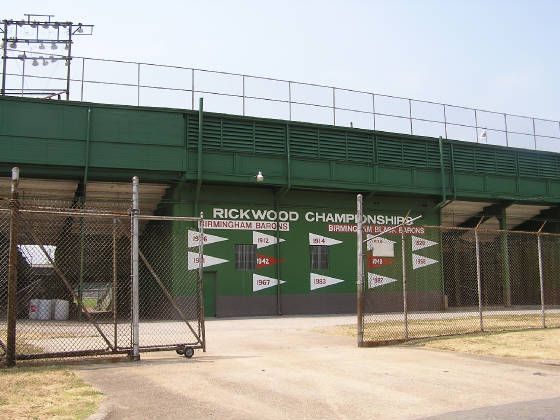 LINKS
The Official site of Rickwood Field (there really is a lot on this web site)
The Official site of the Birmingham Barons
Birmingham weather from WEATHER.com
© 2000-2012 UNCLE BOB'S BALLPARKS
I AM IN NO WAY AFFILIATED WITH ANY OF THE TEAMS ON THIS PAGE ... THIS PAGE IS MEANT FOR INFORMATION PURPOSES ONLY.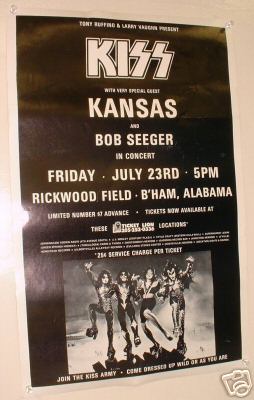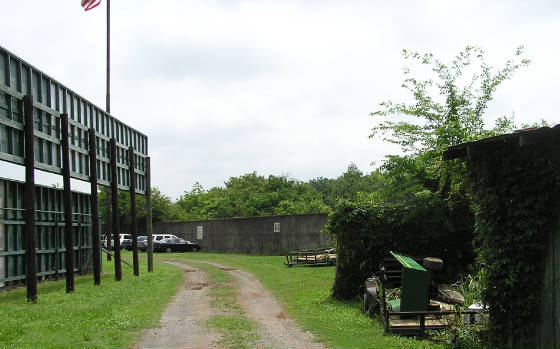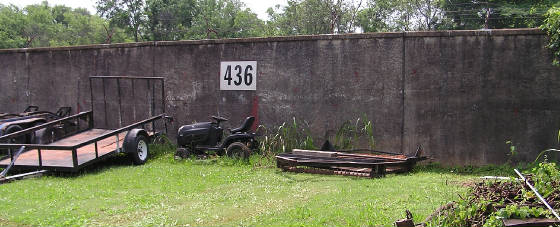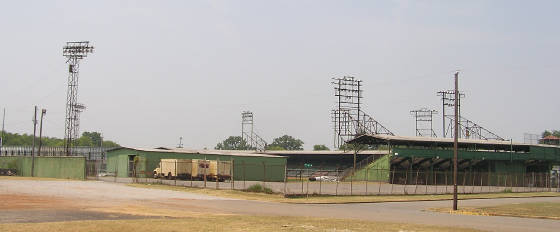 What is difficult to see in this picture is the Original outfield wall which was made of concrete.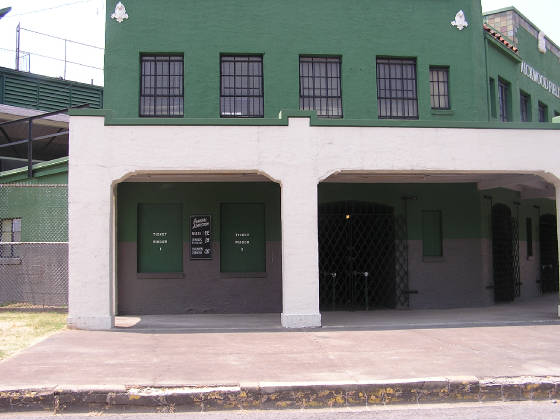 UNCLE BOBS BALLPARKS
UNCLE BOB'S BALLPARKS
UNCLE BOBS BALLPARKS BIRMINGHAM BARONS
UNCLE BOB'S BALLPARKS BIRMINGHAM BARONS
UNCLE BOBS BALLPARKS BLACK BARONS
UNCLE BOB'S BALLPARKS BLACK BARONS
UNCLE BOBS BALLPARKS RICKWOOD CLASSIC
UNCLE BOB'S BALLPARKS RICKWOOD CLASSIC
UNCLE BOBS BALLPARKS RICKWOOD FIELD
UNCLE BOB'S BALLPARKS RICKWOOD FIELD
RICKWOOD FIELD
THE RICKWOOD CLASSIC
BIRMINGHAM BARONS